DIGITALIZATION OF SCHOOLS
Welcoming remote communities and individuals to digital India.We aim at giving the students in border area schools based in high altitude mountainous villages of Ladakh the facility of e-learning. Ensuring that all students in this remote area have access to a range of high quality education through our e-learning digital aid in form of Projectors and Tablets with content aligned to the teaching curriculum. The digitalization or e-learning provided is not for a smart classroom concept, as many of educators still understand it as a simple conglomerate of an eLearning course, used as a pre-work or post-work, with traditional training.
Goldenmile learning initiates a blended e-learning classroom concept. The idea behind is not alone to use e-learning as an alternative but to inculcate it in daily classroom timetable by blending the traditional and contemporary approach of education. The unexplored mechanicals aren't glued to the school system and thereafter left at mercy of teachers. But a SOP (Standard operating procedure) is followed in terms of know-how teacher's training, follow ups, recording usage, recording procs and cons and tracking impacts, all taken care by the appointed GML teacher coordinators from the schools, school's Principal/Headmaster/In-charge and Goldenmile Learning Mentor K.Srinivasan and GML Regional Head, Rinchen Angmo Goba who are based in Ladakh throughout the academic year.
2017 started with Goldenmile learning shortlisting 10 +1 schools (list attached at the end) where we provided the newly sourced rustic projector that suits the harsh environment of the Ladakh. Highlight of our gadgets being, 2-3 hours of battery back-up and really high lumens (in comparison to the 45 mins backup in the previous projector), with 2 USB port and inbuilt Bluetooth, with wireless remote that helps in monitoring the device from all four angles and inbuilt with the World class Pearson's (NCERT) offline content that is mapped with the text books used in the schools of Ladakh. The projector was solely sourced keeping the needs of Ladakh and its students in mind. The newly sourced Projector and the contents was a step-ahead of the ones provided in the previous years by GML.Started in 2013 and currently placed in 20 schools, where we have provided the newly sourced robust projector that suits the harsh environment of Ladakh.
Highlights of the E-learning Digital Aids
Projectors:
Highlight of GML Projector:
Tablets:
Highlights of GML tablets:
1.Built in CPU, 2GB RAM, 8GB ROM, Octacore processor
1.High quality Lenovo Tab3 essential.
2.Sealed optics dust proof technology
2.With battery backup
3.Battery backup: An inbuilt battery with 2hrs (min) backup (for the rural area with electricity problems).
3.In-built speakers.
4.Brightness: 4000 peak operating lumens
4.Inbuilt offline content aligned to the teaching curriculum.
5.In-built speakers.
5.World class Pearson's (NCERT) offline content that is mapped with the text books used in the schools of Ladakh.
6.2 USB ports.
*link YouTube digital textbook from ignitor
7.2 HDMI ports.
8.1SD Card slot
9.Wi-Fi enabled
10.Bluetooth
11.A wireless remote that's helps operate from any angle.
12.Inbuilt offline content aligned to the teaching curriculum.
13.World class Pearson's (NCERT) offline content that is mapped with the text books used in the schools of Ladakh.
Future plans:
1. In 2018 we will be adding 5-7 schools, 2 from Nubra zone, 1 from Changthang, 1 Lamyuru, 1 from Sakti and 2 will be selected via Campaign (reaching 600 students and 100 teachers approx.) and facilitating them. GML will be bringing 18-25 GML projectors and 120 GML tablets in 2018.2. We will also be setting up a self-study center where the students during vacations and other times can do there self-studies through 5 tablets and a projector with offline content that will be set up in the center.3. Magic box will be the next support & facilitation by GML learning to other organizations and people. Where 2 boxes will be made, which will have;a). E-Magic Box will contain all digital tools that can be borrowed from us for certain programs & training sessions for a good cause.b). Magic tool-box will contain simple yet interesting and critical thinking games and tools for workshops and programs conducted in schools or educational training programs which could be borrowed for workshops and trainings. The tools sourced will help foster thoughtful communication as Icebreakers can play an important role in helping people integrate and connect with one-another.
GML Model School
'Mahabodhi School Choglamsar Ladakh'
We wanted to promote better use of technology in form of tablets and projectors for learning, rooted in evidence of impact, informed practice and tailored approaches to what works, with whom and how it works. So, we shortlisted the best performing school from 2016 – 'Mahabodhi School Choglamsar Ladakh as the GML Model School' The school student strength is 510 and 27 teachers, here we have provided 3 Projectors and 19 tablets in class 7th for class of 37. We have thoroughly followed the academic year including the timetable.167 approx. operational classes was taken in the school during the academic year 2016-2017. And despite the fact that the GML Projector and Tablets were delivered to the school in the 2nd half of the academic session, on (18th July 2017), followed by the teachers spending a week on the GML devices for better understanding of the content and how and which topics can be in-corporated into the timetable. The school has incorporated the device from 25th August 2017 into the classes and have taken 131 classes with the GML Projectors. The school as recorded taken more classes for subjects such as Science followed by Social studies, English and Maths and then Hindi and EVS. The English, Hindi and Bodhi teacher have also used it for broad-casting Educational movies or have used the device for forecasting educational movies concerning their subjects. Other aspects of the GML device have also been used for Bodhi studies, trainings and workshops such as Disaster management classes and workshops, guest speakers visits and Motivational classes and Dhamma classes. The Principal of the school herself has used it for several motivational training and even for teacher sessions.The tablets too has been used on daily bases for at least 3 classes in a day, except for a week prior and post their exams, during functions or other curricular activity days. Science, Social studies, English and Bodhi dictionary app installed has often been used by the concerned teacher for explanation of the word meanings. Maths due to certain issues in the most of the tablets have not been used so much. The videos for certain topics that were being taught around that time were crashing. The topics were Exponents and powers- part Rational Exponents and laws of Exponents.in user no.21,25,20,22,10,18,14,31,19,26, problem in Ignitor for 14 and 19 And user 7, 28 and 30 were accidently locked by students. Except that the teachers have demanded more test in the tablets.Overall, with the evidence over the last academic session the impact of Digital education via GML on learning consistently identifies positive benefits. The variety provided via different aspects and the diversity of the context have made learning practice more efficient and effective.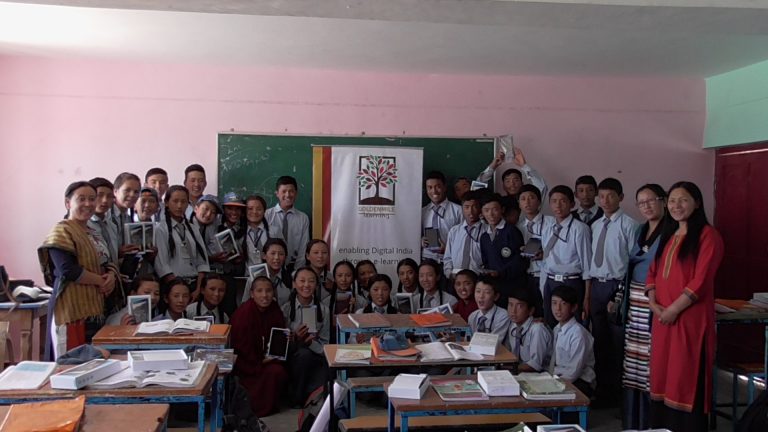 Teachers and principal keeping an account of the distributed tablets after the know-how training.(2017)
Happy teachers of GML Model Sc. -Mahabodhi after the know-how training.
(The teachers get to keep the tablets for a week & plan the collaborated text-tab usage in the class curriculum)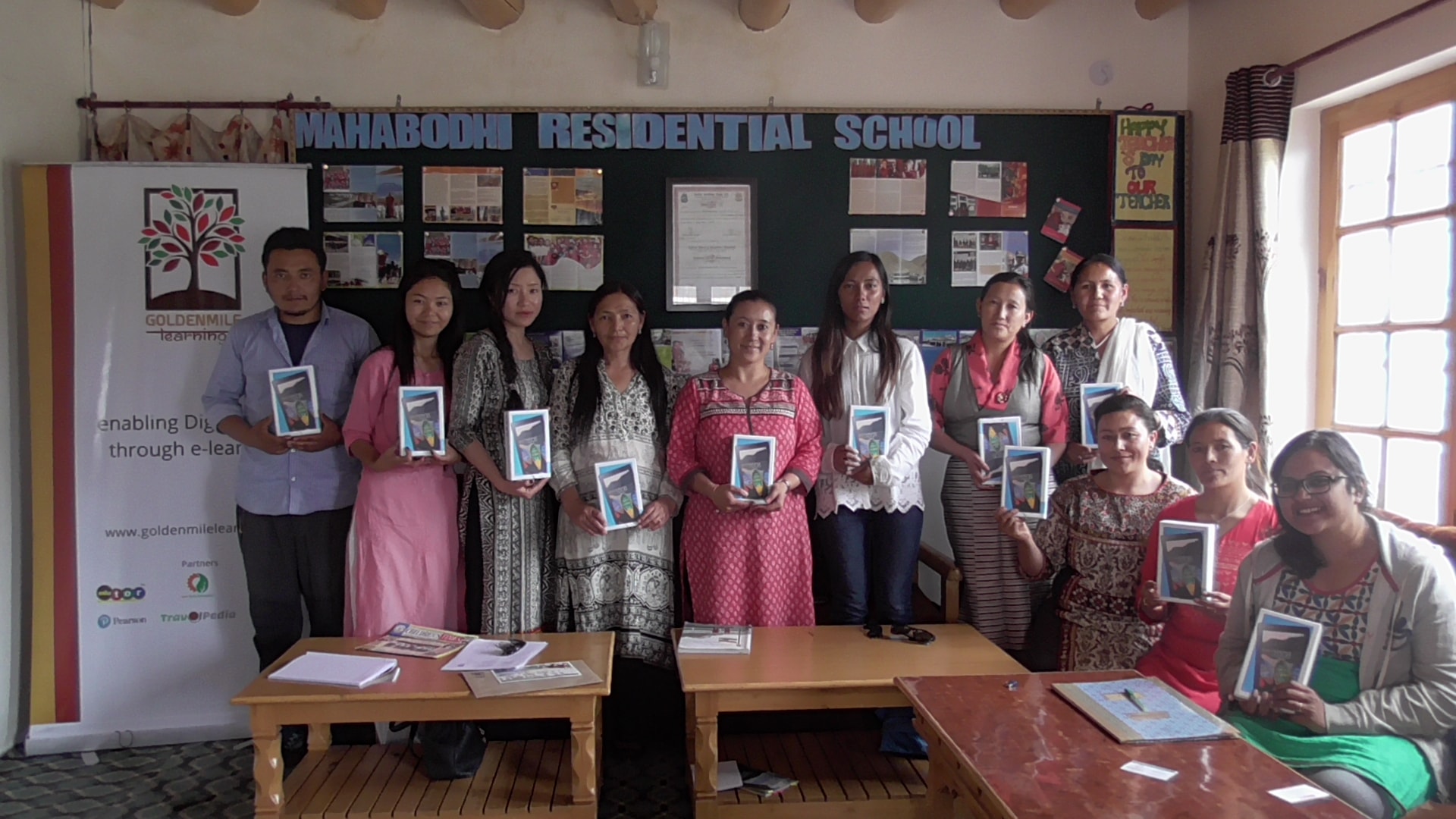 'I love giving projects & discovering new talents.' During a test round at Mahabodhi for Bodhi Digitalization Team. (2017)
Students at GML Model School – Mahabodhi Int. Sc Choglamsar during a follow up visit by GML
Class of excited 40 from 9th C ( Leh Lamdon School Sankar, posing with their GML Tablets 2017.
Students at Imamia taking Oath and promising that they will make the best use of the free tablets from Goldenmile Learning and responsibly maintain it like their Dad's cellphone.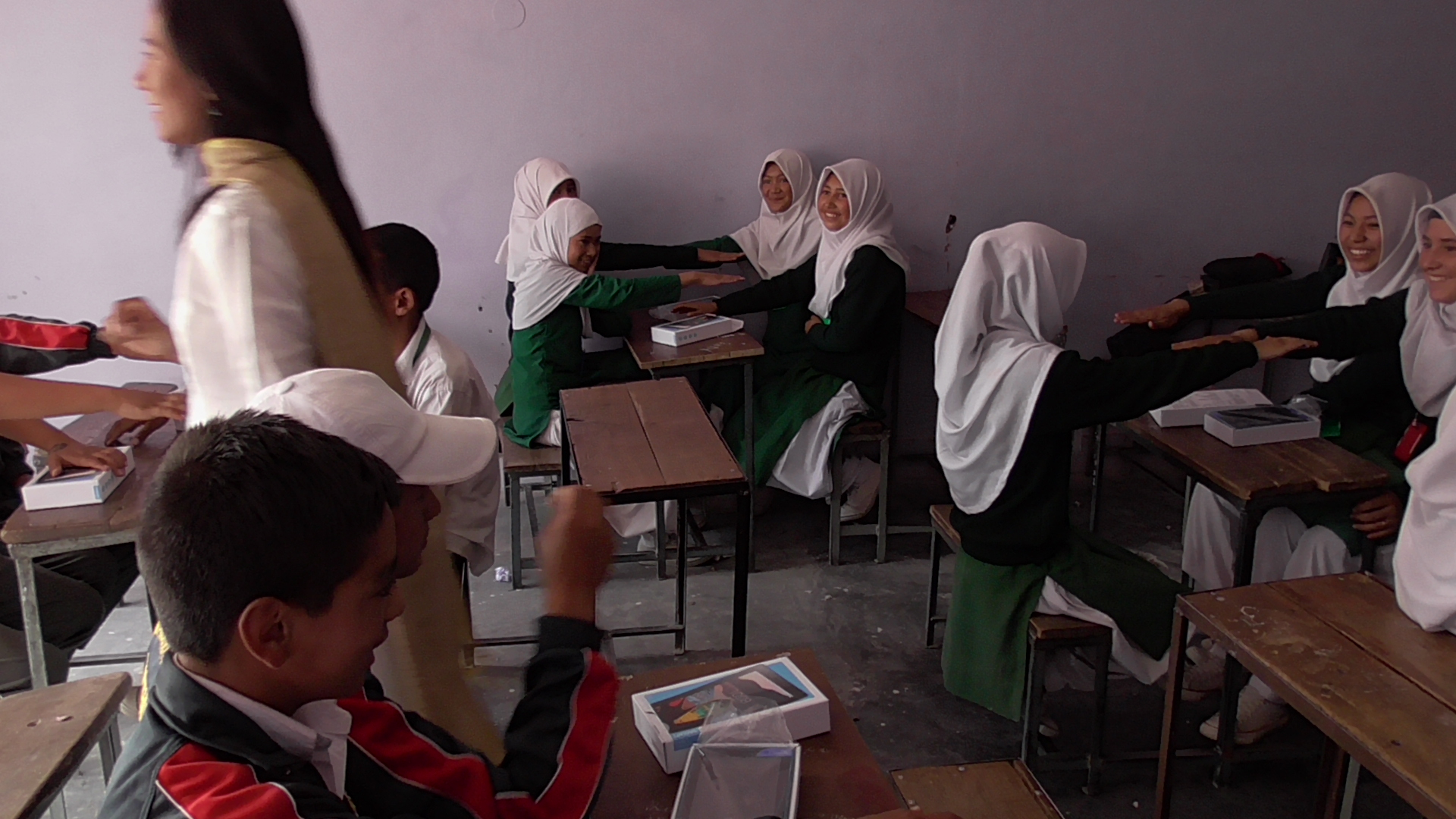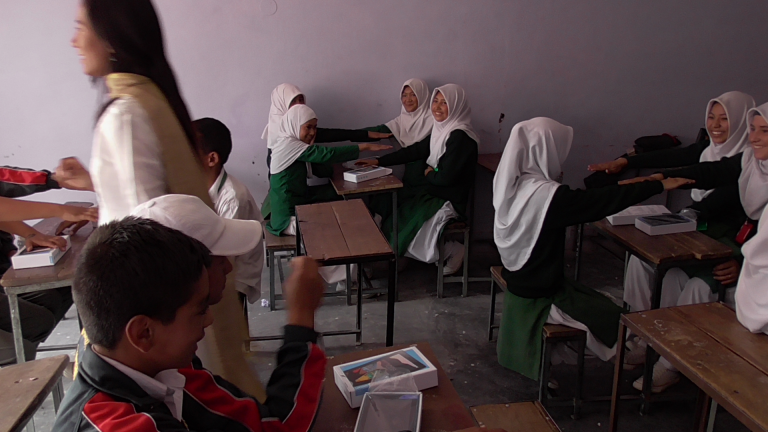 Shortlisted class of happy 22 students (2 absent) who got the tablets from class 7th Imamia School, posing for group photo for Goldenmile Learning.
Class 7th Imamia School Chuchot, introduced to their tablets and the guidelines to be followed for usage. (2017)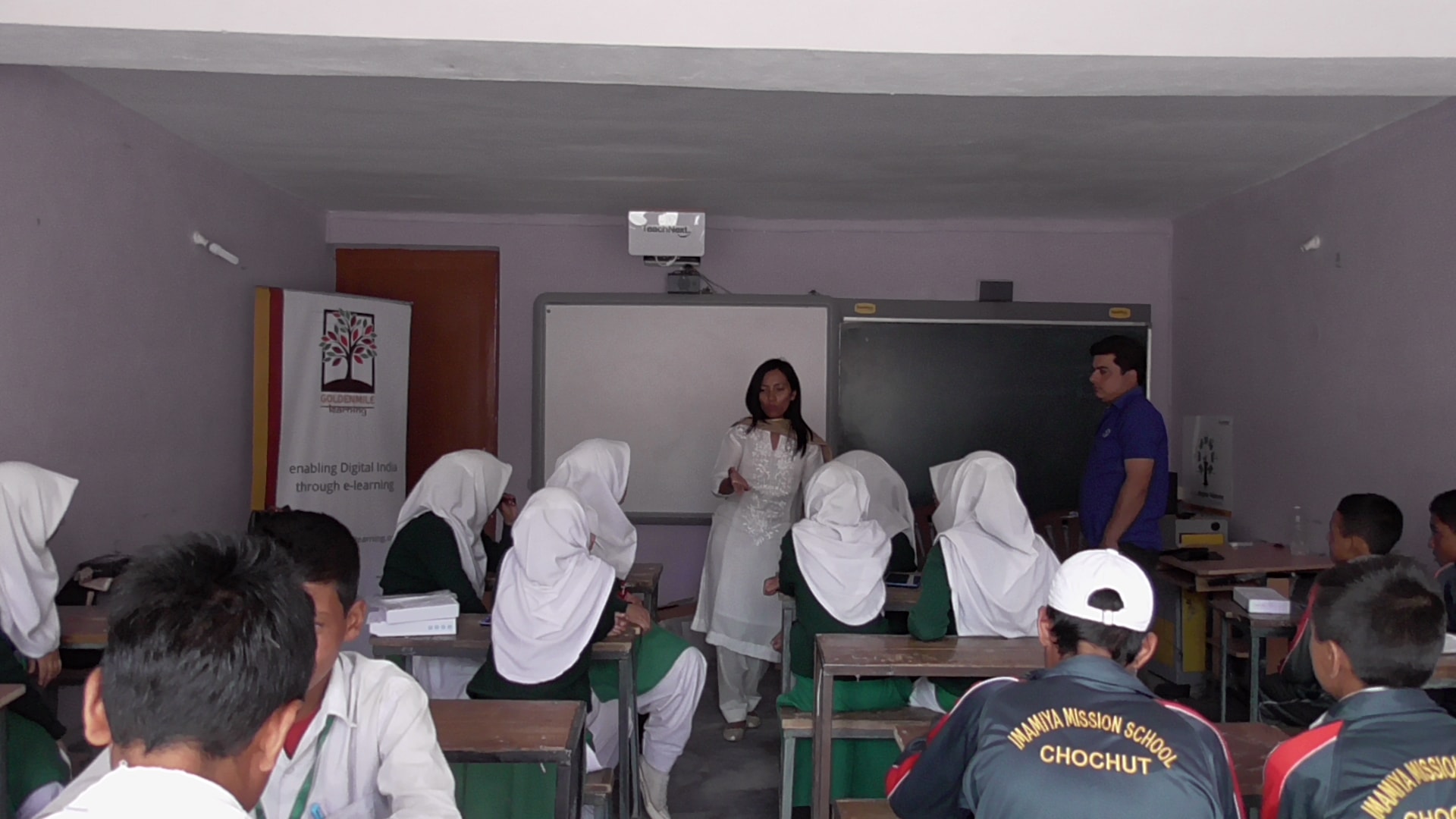 Teachers from CIBS. Jr. Wing during the know-how training (2017). Intense mode on when checking the offline Pearson's digital content for their students of class 8th.
GML Regional Head during the projector know-how 'Train the teachers' training session at Jamyang School (2017)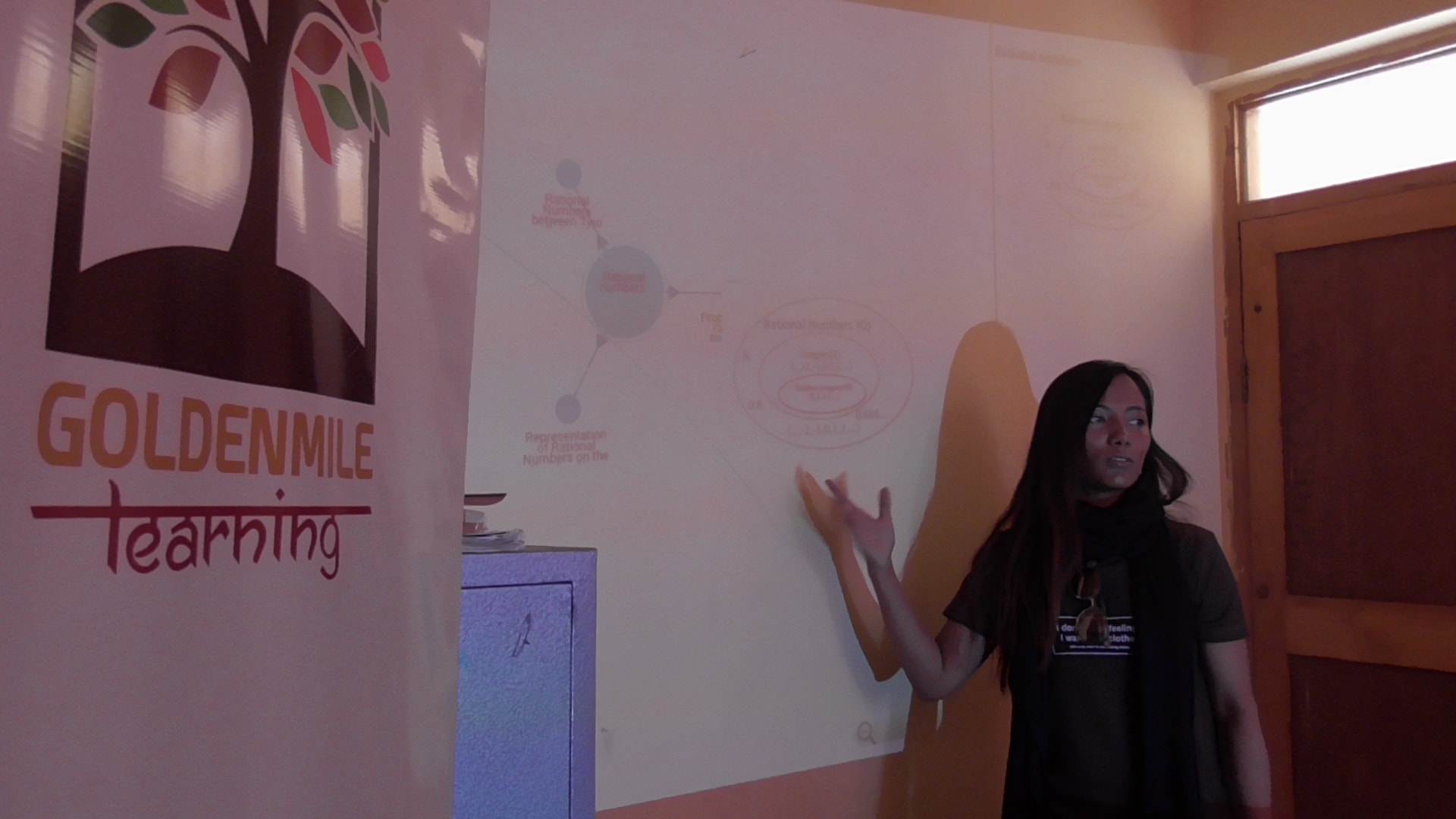 Class 7th Imamia School Chuchot, introduced to their tablets and the guidelines to be followed for usage. (2017)