E-BODHI
During the Goldenmile learning 2017 yearly launch, participant educators and officers pointed out the importance of saving Bodhi subject and the need for digitalization of Bodhi. After a lengthy discussion we decided to come to a common ground and take the challenge on the plate and give it a hand. Goldenmile learning decided to 'try' and digitalize Bodhi through involvement of the Ladakhi students, teachers and educationist themselves, guided by the Goldenmile learning regional head, Rinchen Angmo Goba who involved local editing companies for editing and worked with the children on translation, recording voice-overs and drawings which were edited into moving pictures. Compiled together these pieces from the Ladakhi students, made possible a ray of hope for Digitization of Bodhi subject, made by the students of Ladakh for the student's around the world.So far we have already completed three chapters and three are in process. Goldenmile Learning aims at completing a curriculum text book for class 6th by end of May 2018. Where we are struggling right now is, the editing process is done through a local movie maker Chospa Creation whom we are paying hourly on a reasonably discounted rate (@250 per hour each book with min 14- maximum 25 chapters. Chospa Creation spends min 9 hrs to maximum 12 hours on one chapter including voice-over recordings.With so much on the plate for Goldenmile Learning with Digitilization of the schools, environmental project and our budget being tight. We are looking forward to help and support from anyone who either is willing to help with the free editing or with the project payment.
That was the first story we picked for Bodhi Digitalization, made little nuns at Sakya Nunnery.
Our translators for the story Kunga Lekhi and Tsetso (both in 8th) working on the translation.
The extended team Lil Nuns from Sakya Nunnery and volunteers Lazes Goba, Padma Duktak, Angchok Nono after the completion of the first story.
Our blue Prints. The lifelines for digitalization (Drawings from the Nuns at Sakya nunnery for final digital editing and printing).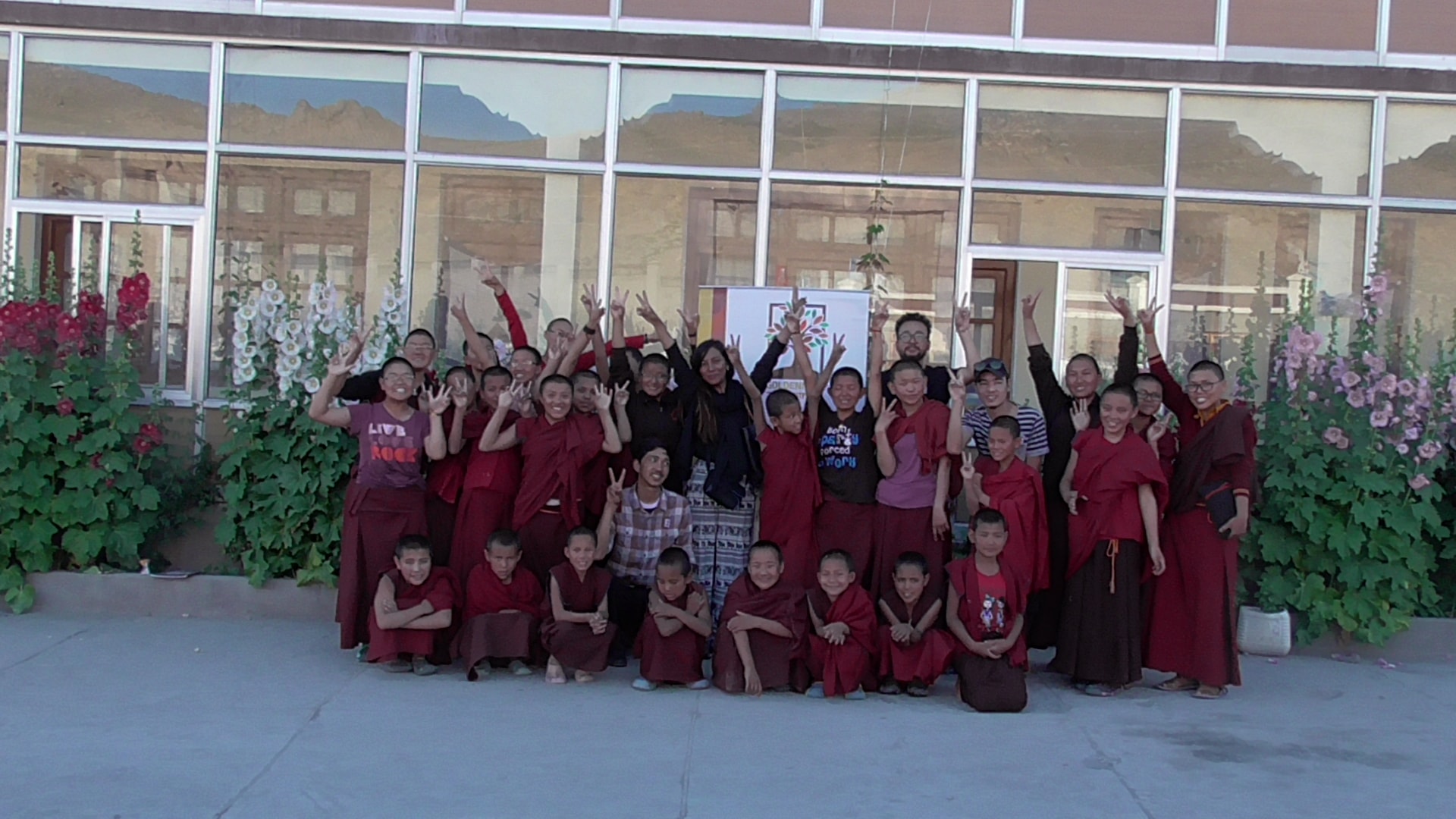 Post editing when the kids saw the project. They were thrilled. So, we decided to capture the moment. With Rinchen Angmo Goba (Regional Head) Goldenmile Learning Ladakh & volunteers Skalzang, Deldan and Chosdup. "Yaay! We did it "
At last the sheep, the villagers, the Shepard and the wolf became friends. The End. (Just kidding) Julai!