GOLDENMILE E-LEARNING ALLIANCE
GML e-Learning Alliance is a platform to facilitate various other organizations working in development and empowering the dissemination of any form of significant knowledge with 'audio-visuals' broadcasted through our robust projectors and tablets. The challenges one faces when dealing with remote areas is communication (especially when the trainer is not a local/native). With our experience these challenges can be embraced with deeper insight, advanced knowledge, greater confidence and made more impactful through the audio-visual presentations most often used in between the trainings, workshops and programs to encourage teaching learning process and make it easier and interesting. With the power of anytime, anywhere, anyway our specially sourced learning kits, makes digital broadcasting in the remotest of areas possible, with the following features:i) Built in CPU, 2GB RAM, 8GB ROM, Octacore processorii) Sealed optics dust proof technologyiii) Battery backup: An inbuilt battery with 2hrs (min) backup (for the rural area with electricity problems).iv) Brightness: 4000 peak operating lumensv) In-built speakers.vi) 2 USB ports.vii) 2 HDMI ports.viii) 1SD Card slotix) Wi-Fi enabledx) Bluetoothxi) A wireless remote that's helps operate from any angle.Under the GML alliance projects: We also, in the past have taken up to providing schools, organizations and universities the assistance and support in terms of trainings and expertise help (if possible at our end) for medical, personality development and disaster management sessions or trainings conducted by our Regional Head, Rinchen Angmo Goba, who is a certified teacher, CPR & EFA respondent, trainer also armed with leadership and disaster management skills.
Alliance with HEALTH.inc & Help fund chai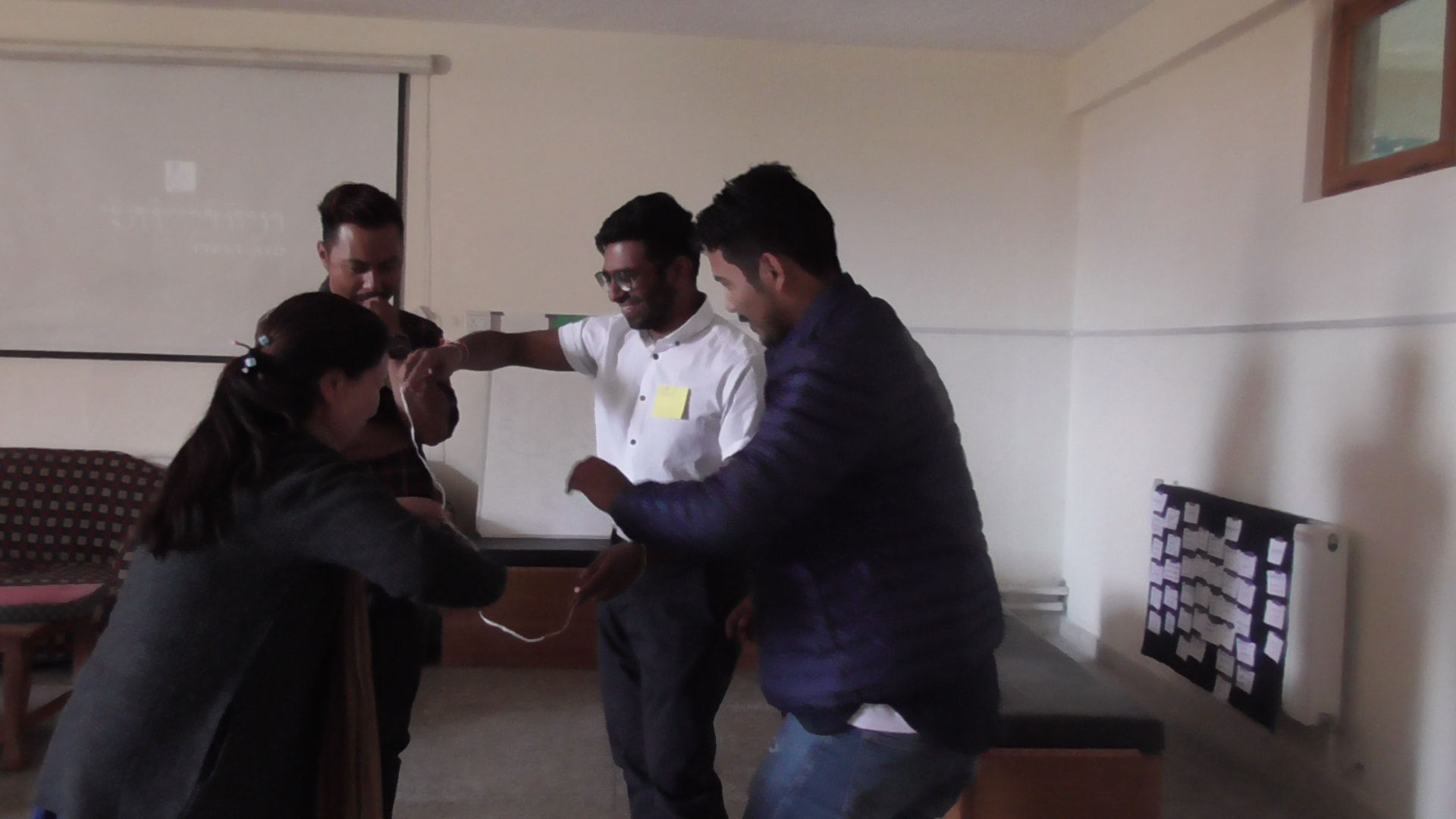 'No training shall commence without a little critical thinking fun Ice-breaker'During the CPR & First aid training at SNM Hospital with Cytnhia & Rinchen Angmo Goba
Dr. Yanghan (VIP Guest speaker) addressing the participants before the training about the importance.
A quick competition in between the training sessions (what to do during the projected event?)
A quick competition in between the training sessions (what to do during the projected event?)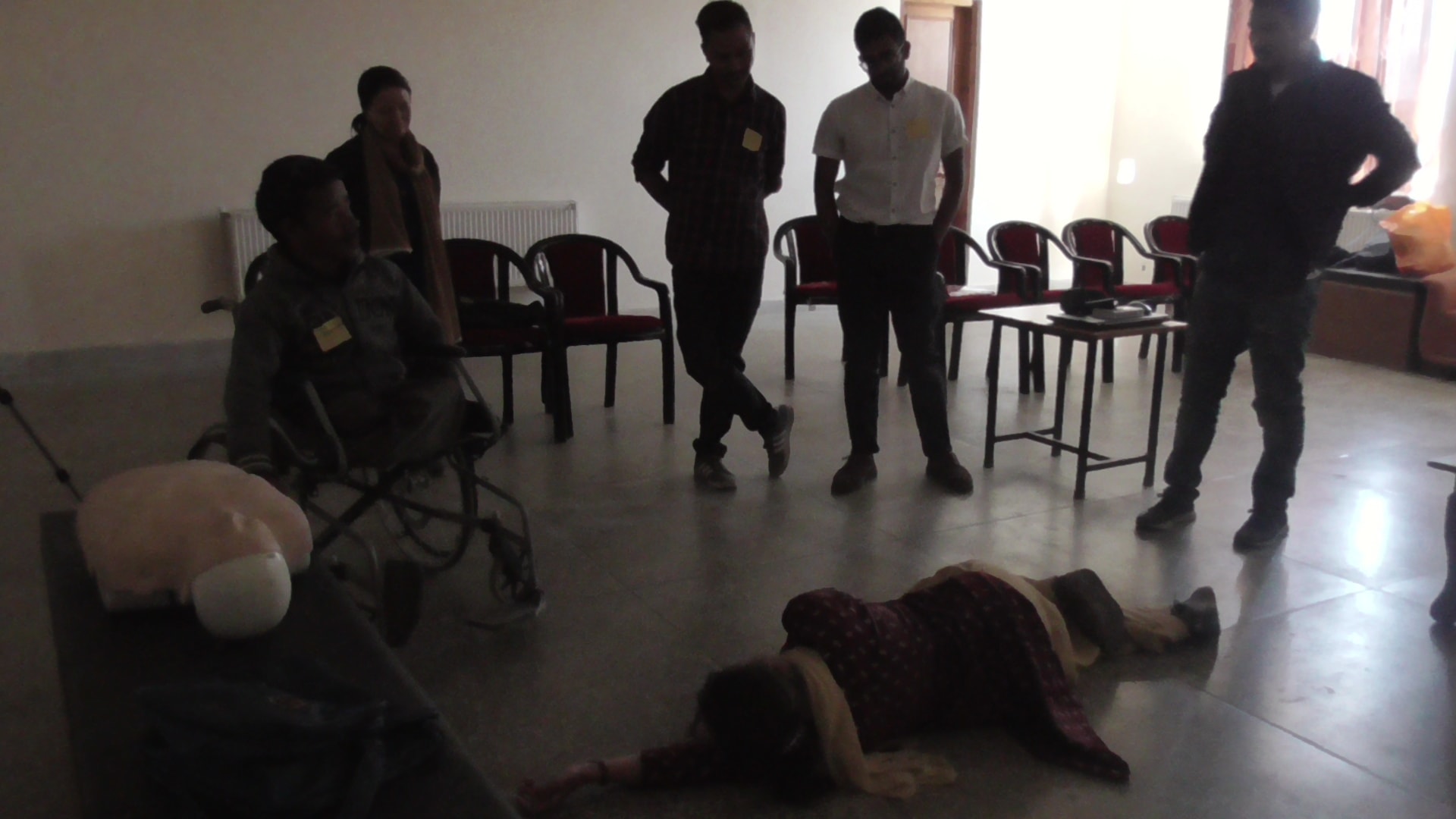 Jigmet singaen (Journey to Ladakh) performing practical in case of severe bleeding.
Rigzin Tamchos (PAGIR) perfroming practicals in case of injuries with the object stuck inside the victim's body part. (Cynthia Hunt playing the actor victim)
Cynthia Hunt (Executive Director) HELP Fund & HEALTH.INC and Rinchen Angmo (Regional Head) Goldenmile Learning Ladakh, (both certified in CPR & First Aid training) have worked together in collaboration and trained the local travel agencies, attendant from school for disable, Chuchot, President Youth association Kanji (YAK), and a member of disabled people from PAGIR (The People's Action Group for Inclusion and Rights is an organized group formed by people with disabilities, their families and friends to create a society that is more inclusive and free of prejudice.) The training program was conducted on a request made by 'Journey to Ladakh, travel agency' our mission for the training was to help prepare trainers and first responders in basic first aid response and CPR, so they could train their fellow members and their teams could respond to emergencies properly. The training program, test and then certification will help empower them to help during crisis.Ladakh the word means "land of high passes", is a high-altitude desert located at the altitudes ranging from 9,000 to17,000 feet above sea level which is a popular destination for all kind of travelers, especially adventurous ones. As a travel has rightly quoted, 'BEAUTY OF LADAKH BECKONS BUT BEWARE OF HEALTH ISSUES' The wide spread tourist sites which always have to be passed through difficult terrain is prone to road accidents and with the medical camps or health centers based in villages only, often at times because the area is far-flung it gets difficult to reach for a medical help on time in case of any mishaps. Therefore, it is very important especially for the travel agencies to know basic first aid and CPR when dealing with numerous tourist in the tourist season. And realizing the need Health.inc Director Cynthia Hunt and Rinchen Angmo Goba (Goldenmile Learning Ladakh) initiated the training at SNM Hospital with great help and support from and Dr. Yangchan, VIP guest spokesperson and Dr. Motup SNM Hospital, the training was conducted.The trained individuals from YAK & PAGIR & Journey to Ladakh who passed the test will be conducting trainings for their fellow members at their respective centers with help and support from Goldenmile Learning in 2018 and thereafter.
GML & YAK (Youth Association Kanji
Education, Interaction and Fun- In, January 2018, Goldenmile Learning borrowed 25 tablets and 1 projector to YAK (Youth Association Kanji) for 'Alternative Skill Development Winter Camp 2018' happening at Kanji, one of the remotest village in Sham region of western Ladakh. The camp was held keeping in mind the need of the children and adults from the remote area that are deprived of modern education & technology, derived of joyful learning due to lack of experts in the area and modern facilities, the cultural gap between the young and old and the growth rate of stress and pressure, students being unable to cope up in the fast competitive growing society.
GML & CIBS University
Over the past couple of years many schools and institutions in Ladakh have taken upon to empowering school leaders through administrative trainings, computer skill training amongst others to be able to lead by example. Successful delivery of education is largely dependent on the principals & teachers in remote areas. Geshe Konchok la Director CIBS, requested Goldenmile learning to provide a platform, a training for the staff at CIBS, Choglamsar.Therefore we carried out training programs in collaboration on the digital device usage and basic computer skill training specially for the lecturers, Acharya's, Buddhist philosophers and scholars at Centralized institute of Buddhism studies, Choglamsar for 5 days. The program was attended by 34 participants. Most of the participants were big scholars and philosophers in their 50s-60s with zero knowledge about computer or mechanical usage. Therefore is was a challenging yet a fun learning period with their sarcastic jokes and mockery. Despite their age their realization for need of computer education to cope up with their surroundings and enthusiasm was amazing. And each participant had hands on training on the devices during that time.